Back to the 60s for Thursday, with warm weather continuing into 2023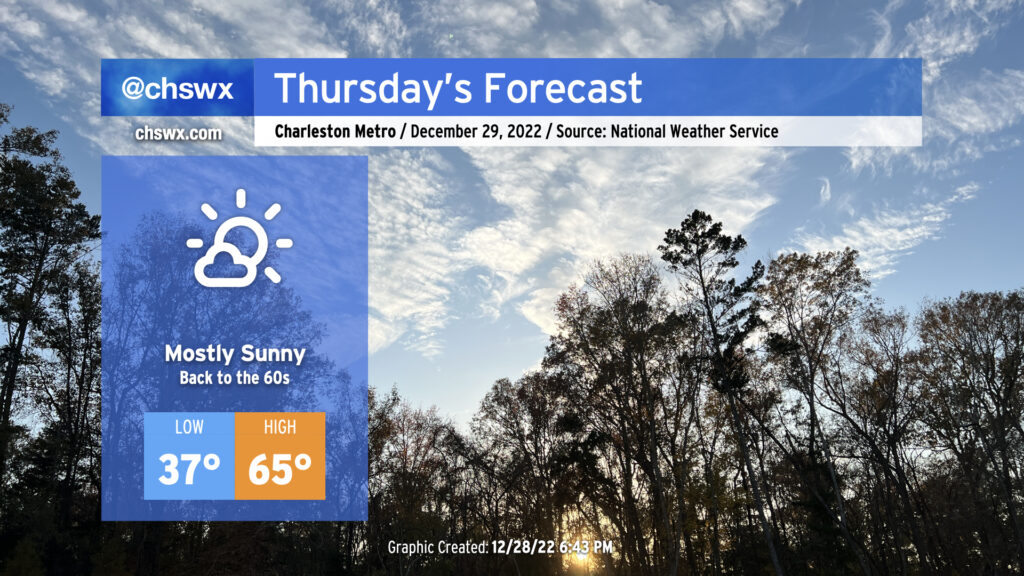 After a high of 62° today — the first time since December 17 that we've crossed the 60° threshold — we will be back into the 60s tomorrow across the metro, with temperatures running a few degrees warmer than they did today. Most notably, those of us east of Highway 17-A will remain above freezing into tomorrow morning for the first time since December 23. Those of you along and inland of 17-A will want to take freezing weather precautions for just one more night as lows dip below 32° for a time, with a few upper 20s possible in more sheltered locations. However, many of us will not need to drip faucets or take other precautions tonight (though bringing your pets in is always a good idea this time of year).
Friday and New Year's weekend: Unsettled end to 2022, but still warm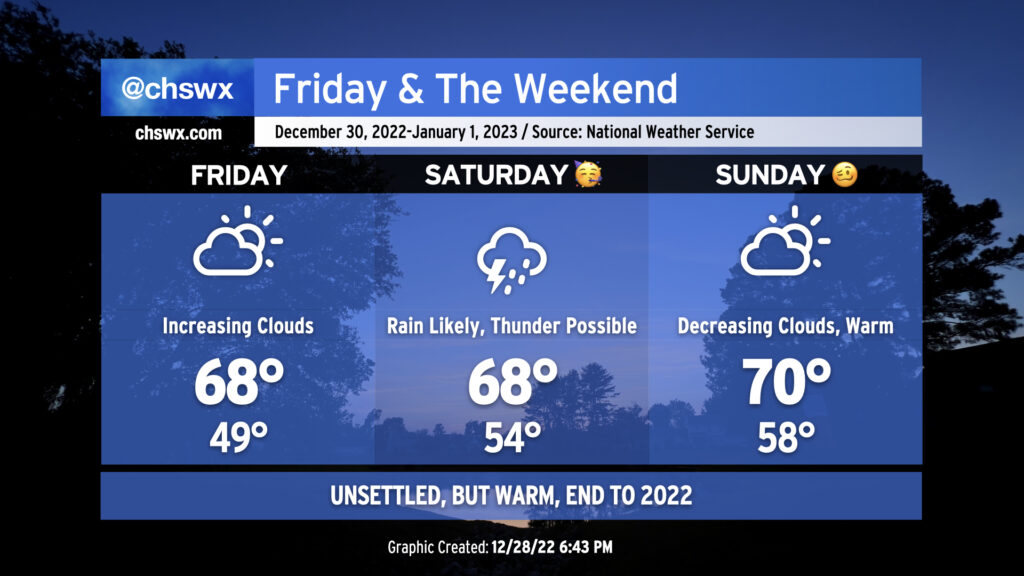 Warm weather will continue as the sun sets on 2022 and we welcome in 2023 (and then well beyond that, too). Temperatures will run in the upper 60s Friday and Saturday, and despite a weak front will peak around 70° on Sunday.
We should get much of Friday in dry, but New Year's Eve could be a bit on the wet side as a storm system moves through the eastern half of the country. We'll be getting into the warm sector of the storm later Saturday, which could promote enough instability for even a few thunderstorms embedded within rain showers particularly starting Saturday afternoon into the overnight. It'll be a good day to stay in and take in college bowl games, I suspect. If a New Year's Eve party is in your plans, please be sure to have the rain gear handy with you. Fortunately, no severe weather is expected.
The front gets offshore within the first few hours of 2023, and we will start the year with decreasing clouds but continued warm weather, with a high near 70° possible — certainly not the worst way to get underway in 2023. Warm weather looks to have some staying power, too, with above-normal temperatures favored into at least the second week of January if not beyond.
---
Follow my Charleston Weather updates on Mastodon, Instagram, Facebook, Bluesky, or directly in a feed reader. You can also get daily audio updates via the Charleston Weather Daily companion podcast, available wherever fine podcasts are listed. Do you like what you see here? Please consider supporting my independent, hype-averse weather journalism and become a supporter on Patreon for a broader look at all things #chswx!