The week ahead: Gorgeous start, warming and turning unsettled toward the weekend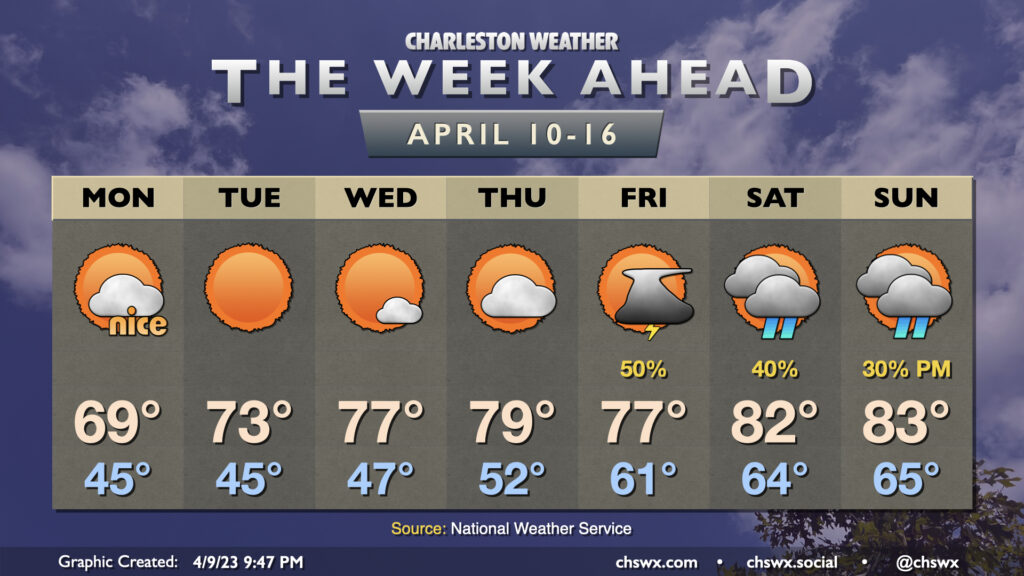 After an unusually chilly weekend, we've got a really nice start to the new work week coming up as cool, dry high pressure continues its hold on the area. We'll still see a series of chilly starts through Wednesday, with lows in the mid-40s each morning. Highs gradually moderate through the period, peaking in the upper 60s on Monday, low 70s on Tuesday, and mid-70s on Wednesday under plenty of sunshine. Winds on Monday will still be a little on the breezy side, with occasional gusts to 30 MPH possible.
Thursday will represent one more rain-free day with a little warmer weather as highs peak near 80°. Low pressure advancing northward out of the Gulf will help usher showers and maybe a few thunderstorms into the area on Friday (though a total rainout looks unlikely). The overall airmass turns warmer, with lows in the 60s Friday morning offering a sharp departure from the last several days. Highs top out in the mid-70s with shower and thunderstorm activity likely tempering warmth. Scattered showers and maybe a thunderstorm remain possible Saturday into Sunday, though with far less coverage than Friday. Highs top out in the low 80s each day this weekend after starting in the mid-60s.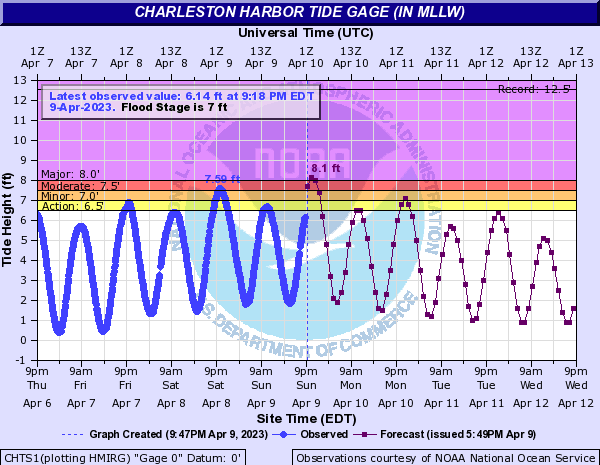 As of this writing, a Coastal Flood Warning is in effect for Charleston County, with a Coastal Flood Advisory in effect for Tidal Berkeley (think Hanahan, Daniel Island). Water levels are expected to peak around 8′ in the harbor with the 11:04 PM high tide Sunday, closing numerous roads in and around downtown Charleston.
One more round of minor coastal flooding will be possible late Monday/early Tuesday as water levels look to peak around 7.1-7.3′. From there, northeasterly winds slacken noticeably as high pressure builds further into the area and offshore low pressure pulls away, loosening the pressure gradient. This will bring the coastal flood risk to a close.
---
Follow my Charleston Weather updates on Mastodon, Instagram, Facebook, Bluesky, or directly in a feed reader. You can also get daily audio updates via the Charleston Weather Daily companion podcast, available wherever fine podcasts are listed. Do you like what you see here? Please consider supporting my independent, hype-averse weather journalism and become a supporter on Patreon for a broader look at all things #chswx!