Thursday: One more unsettled day, then a couple really nice days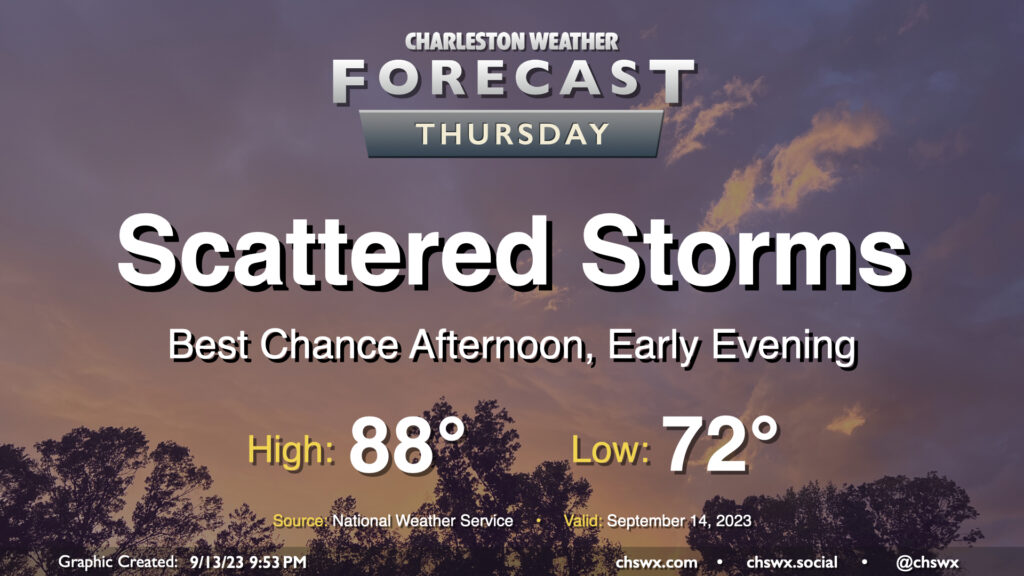 A cold front will slip offshore early Thursday morning, but we won't quite be feeling it just yet as some showers and thunderstorms will still be possible as moisture lingers across the area during the day Thursday. Highs top out once again in the upper 80s before showers and a few storms fire. Instability isn't great and severe weather is not expected, though some heavy rain will yet be possible at times. The best chance to see a shower or storm looks to be in the afternoon and early evening hours.
Friday & the weekend: Cooler and drier air builds back in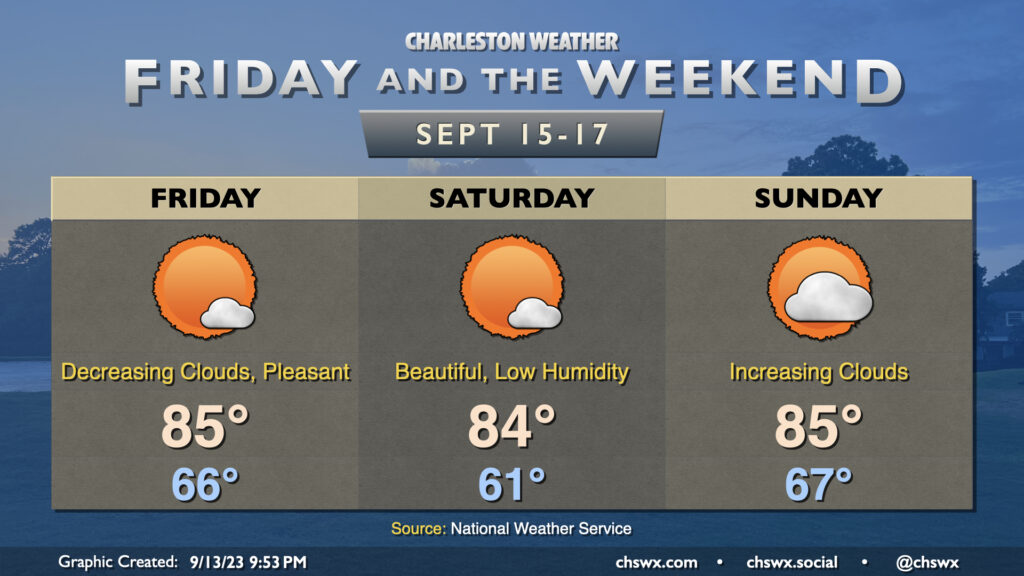 The airmass change behind the front will lag it, but when it gets here Friday, I suspect you'll feel it's worth the wait. Dewpoints will fall into the mid-50s throughout the day as skies gradually clear up. A decent northeasterly breeze will help to keep highs generally in the mid-80s, with relative humidity values dropping below 40%. It'll feel quite comfortable outside!
Saturday's the pick day, though — we start the day in the low 60s (away from the locally warmer coast, anyway) as highs head into the low-to-mid-80s in the afternoon. Humidity will remain at very comfortable levels and we have a ton of sunshine to work with. It should just be an all-around excellent day of weather.
We'll start to see dewpoints head back into the 60s on Sunday as high pressure slips offshore and southerly flow returns. It will still be a good weather day, with highs topping out in the mid-80s in the afternoon. Clouds will be on the increase, and a shower or two can't be totally ruled out by late evening, but we should get the vast majority of the day in rain-free.
It's worth noting that Thursday's highs in the upper 80s look to be the last time we get too far above 85° for at least the next week as a reinforcing front comes by Monday, stalling nearby and keeping shower chances elevated near the coast for next week.
Tropics: Lee to bring rough weather to the Northeast and Nova Scotia; Margot to meander; next depression likely in the next day or two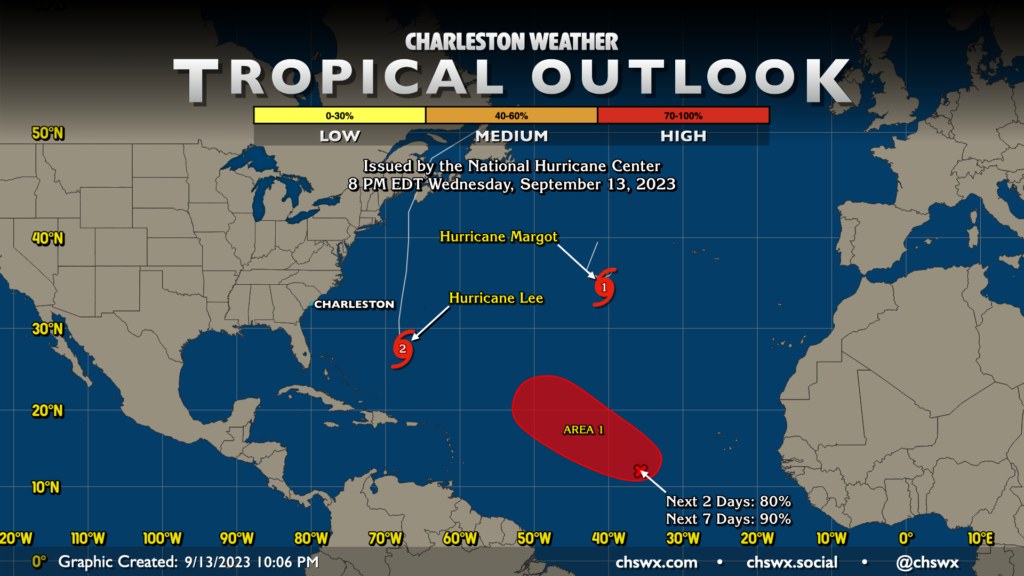 The tropical map remains busy as we head down the home stretch of the work week. Lee is likely to pass north of our latitude by Friday as its wind field continues to expand. This could bring tropical storm conditions to the northeastern US this weekend as the center of the storm looks to make landfall on Nova Scotia. Maximum sustained winds will be diminishing, but the breadth of the wind field will be enough to move a lot of water, causing surge issues on Cape Cod among other locations. Here at home, the surf is up and will continue to be that way over the next couple days, with a high risk of rip currents through at least Friday. It's not the time to head into the water if you're inexperienced, that's for sure.
Margot is going to stall out and meander between 35-40°N over the next few days as it encounters cooler waters and winds down into a tropical storm. Margot remains no concern for land.
Finally, our next depression should develop over the next couple days from a wave at about 35°W and 12°N as it moves west-northwest across the central Atlantic. Model guidance suggests it could reach hurricane strength over the weekend, with a major hurricane not completely out of the question given a favorable environment and plenty of warm water ahead of it. Track modeling thus far generally favors a recurvature around high pressure to the storm's north and east, but there is going to be quite a bit of uncertainty with this until the storm gets better organized. Fortunately, it is way, way out there, and we have plenty of time to watch it. Right now, I don't consider it a concern for the Lowcountry, and odds are pretty good we won't get into that territory.
---
Follow my Charleston Weather updates on Mastodon, Instagram, Facebook, Bluesky, or directly in a feed reader. You can also get daily audio updates via the Charleston Weather Daily companion podcast, available wherever fine podcasts are listed. Do you like what you see here? Please consider supporting my independent, hype-averse weather journalism and become a supporter on Patreon for a broader look at all things #chswx!