Friday & the weekend: Humidity takes a brief break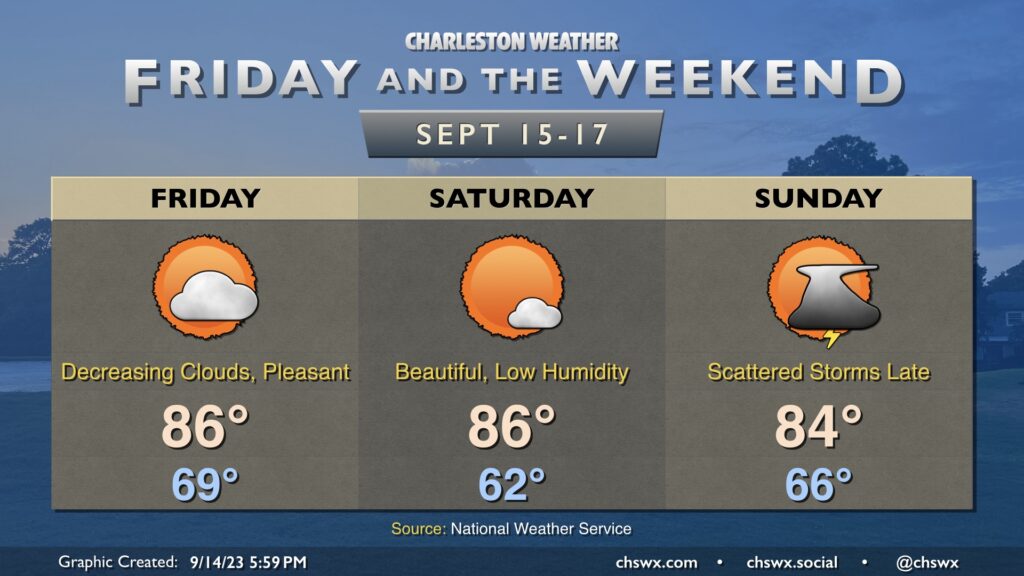 We get a break in the humidity Friday and Saturday as cooler and drier high pressure builds in from the northwest. Temperatures get off to a nice start on Friday, and persistent northeasterly winds will keep highs capped in the mid-80s as cloud cover decreases. Dewpoints, meanwhile, will plummet into the mid-50s, and this will allow relative humidity values to drop below 40%, making for rather comfortable warmth.
Saturday is probably the best day of the set to get outside, as we start the day in the low 60s before heading back to the mid-80s in the afternoon under mostly sunny skies. Dewpoints will again mix out into the mid-50s during the day, and we'll have another round of sub-40% humidity.
High pressure slips offshore overnight Saturday, and by Sunday dewpoints will be rebounding back into the mid-to-upper 60s. Another front will be approaching the area during the day, and this will be the impetus for showers and thunderstorms as we get later into Sunday and Sunday evening. Highs top out in the mid-80s. Overall, expect temperatures to remain at or a little below normal as we head into next week.
Tropics: Lee broadens out, Margot meanders, next depression soon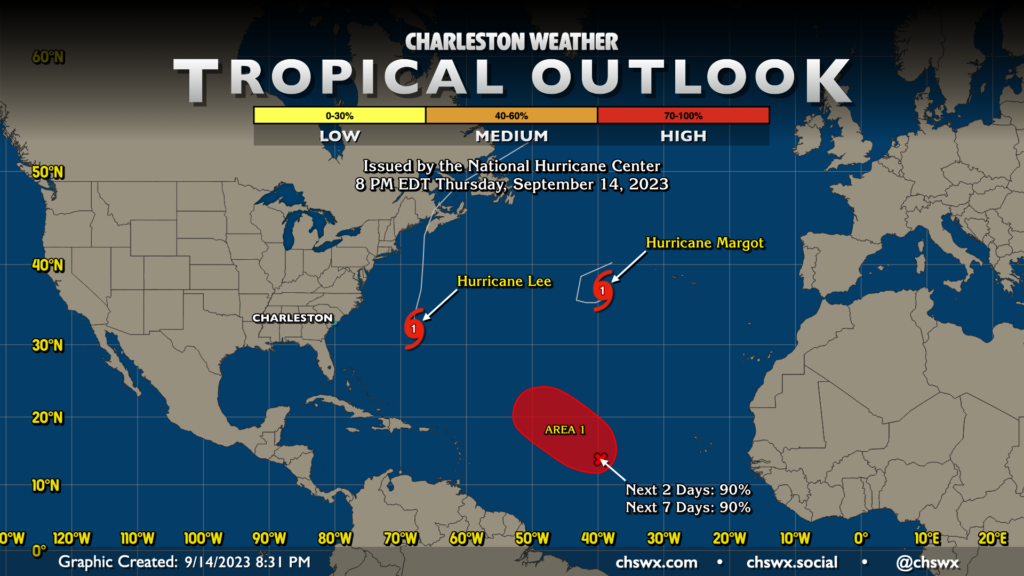 Not many changes with the tropical outlook as we head into Friday. Lee is starting to interact with a cold front and is broadening out quite a bit as it moves northward, which will bring a surge risk to the northeastern states. Here at home, it's giving us some fairly good waves as well, with a high surf advisory and a high risk of rip currents continuing through Friday evening at least.
Margot is looking less impressive on satellite and looks primed to do a little loop over the next few days as it weakens back to a tropical storm. It's forecast to become post-tropical on Tuesday very near where it is positioned now — just not much steering there at the moment. Margot poses no imminent threat to any land, much less our neck of the woods.
Finally, the main area of interest for new development in Atlantic (dubbed Invest 97L) should become a depression by this weekend as it moves northwest through the central Atlantic, generally away from any land. Guidance suggests that Bermuda will want to watch this one, but otherwise, the early returns suggest recurvature out to sea for what could become Nigel. If that changes, I'll let you know. Enjoy the weekend!
---
Follow my Charleston Weather updates on Mastodon, Instagram, Facebook, Bluesky, or directly in a feed reader. You can also get daily audio updates via the Charleston Weather Daily companion podcast, available wherever fine podcasts are listed. Do you like what you see here? Please consider supporting my independent, hype-averse weather journalism and become a supporter on Patreon for a broader look at all things #chswx!