The week ahead: Seasonably cool to start, rain in the middle, improving this weekend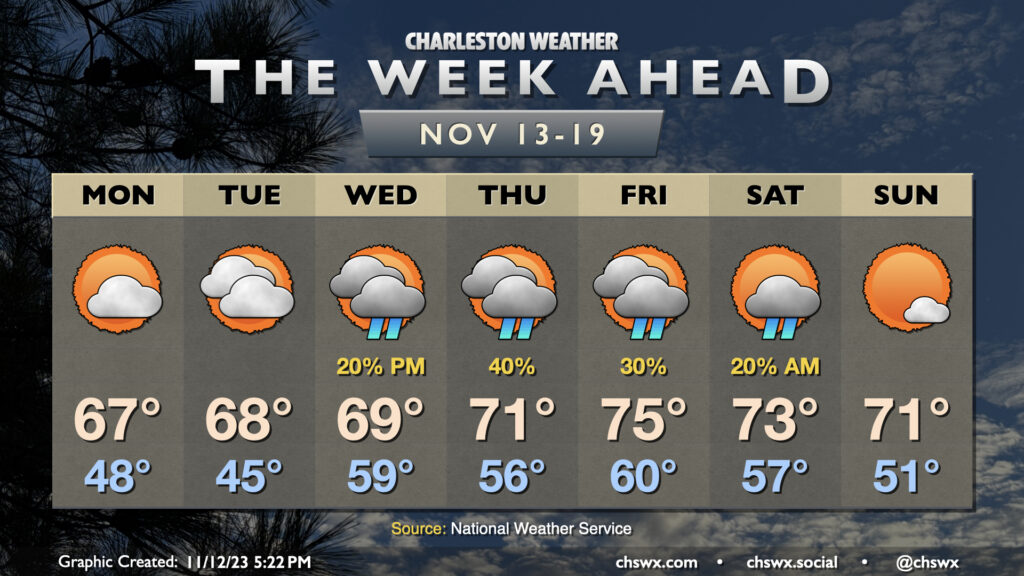 After a dreary weekend, some sun begins to peek back out for Monday, and this will help temperatures get closer to — but still a touch below — mid-November norms. Expect highs in the mid-to-upper 60s Monday through Wednesday, with high temperatures reaching the low 70s starting Thursday and continuing into the weekend, with a slight cooldown for Sunday in the wake of a weak cold front.
Clouds will steadily increase through the first part of the work week as a reasonably vigorous disturbance ejects out of the southern Plains, with surface low pressure moving southeast from the Gulf Coast toward the Florida peninsula, dragging an inverted trough to its north that will help be a forcing mechanism for some shower activity here at home. There's a slight chance of showers as soon as Wednesday, with rain chances peaking Thursday before gradually tapering Friday and perhaps into Saturday depending on the timing of the trough's exit and the aforementioned front crossing the area. Most of Saturday should be rather nice, and Sunday will offer even more in the way of sunshine.
Coastal flooding concerns early this week
The only other weather concern will be minor coastal flooding with Monday morning's high tide (peaking around 7:28am). Water levels could head between 7-7.2′ around this time, and that could be enough to put some salt water on some roads, and perhaps close a couple, particularly on the west side of the peninsula. Tides on Tuesday and Wednesday morning could get close to flood stage as well as we approach a new moon and northeasterly winds persist. Stay alert for possible Coastal Flood Advisories from the National Weather Service.
Tropics: Some late-season Caribbean action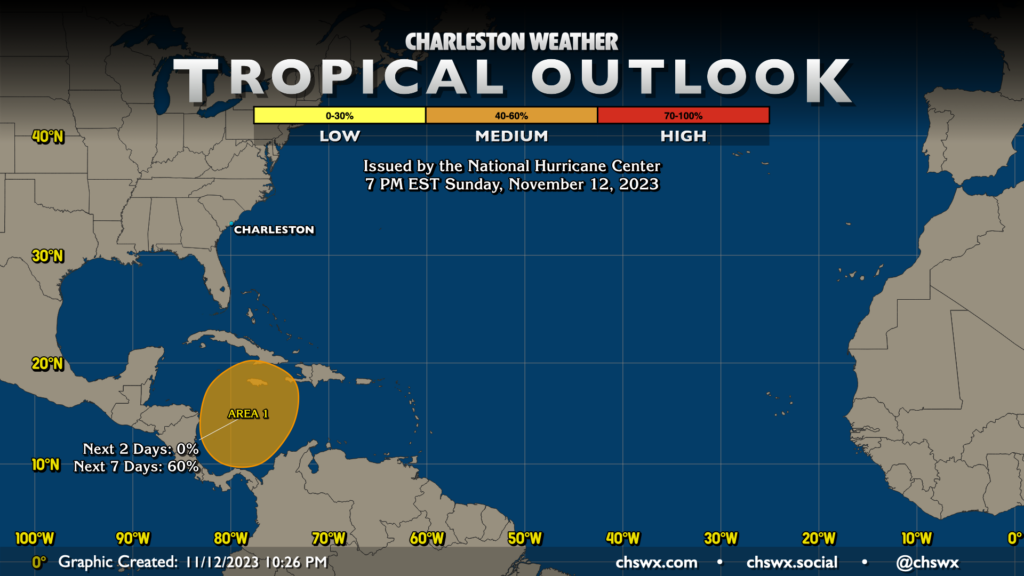 An area of interest in the southern Caribbean could bring some late-season tropical action to Cuba and Hispaniola in the next few days. Guidance is becoming more comfortable with the idea of a tropical cyclone forming later this week and moving northeastward across the Caribbean. A lot remains uncertain with this area, but guidance is also fairly unanimous in this system being picked up by the aforementioned front and being taken safely away from the United States mainland over the weekend. From our standpoint here in Charleston, there's nothing to worry about with this disturbance.
The names Vince and Whitney remain before we go to a supplemental list of names. The Atlantic hurricane season continues until November 30.
---
Follow my Charleston Weather updates on Mastodon, Instagram, Facebook, Bluesky, or directly in a feed reader. You can also get daily audio updates via the Charleston Weather Daily companion podcast, available wherever fine podcasts are listed. Do you like what you see here? Please consider supporting my independent, hype-averse weather journalism and become a supporter on Patreon for a broader look at all things #chswx!