Tuesday's forecast: Mix of clouds and sun ahead of more unsettled weather for the second half of the week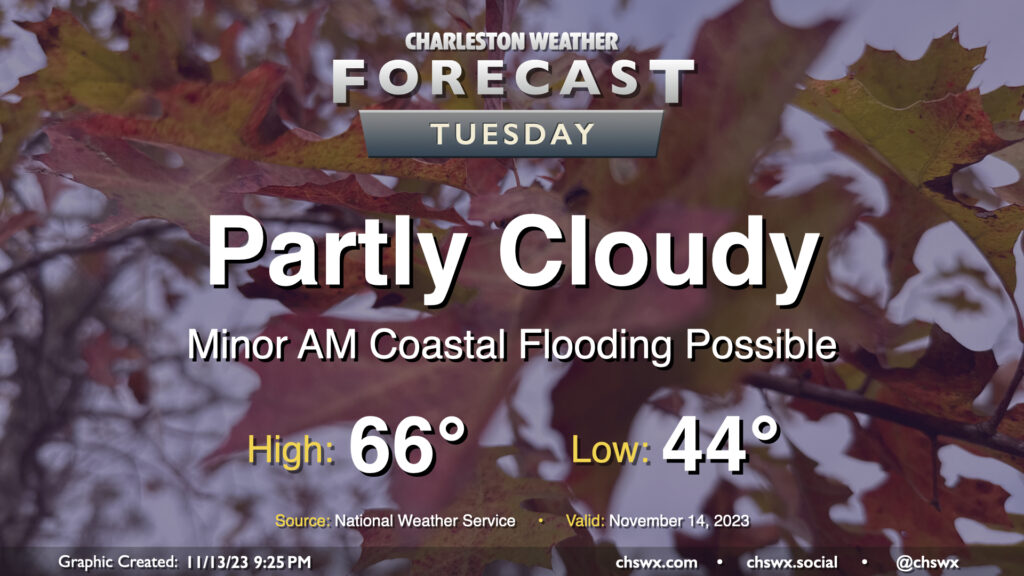 Another seasonably cool fall day awaits for Tuesday as we start to see an uptick in cloud cover portending more unsettled weather beginning later Wednesday into the rest of the work week. Temperatures start in the mid-40s before heading to the mid-60s in the afternoon, a couple clicks below normal but certainly very seasonally-appropriate. We'll see ample sunshine, too, but as mentioned, cloud cover will begin to head up as we get into the evening.
High tide a little after 8am will be capable of producing some minor coastal flooding, with water levels generally approaching 7′ or so. It'll be enough to put salt water on the most vulnerable roads — think around Hagood and Fishburne — but won't cause widespread problems. Still, be ready to reroute around salt water-covered roads Tuesday morning.
Rest of the work week: Turning more unsettled, though rainfall amounts won't bust the drought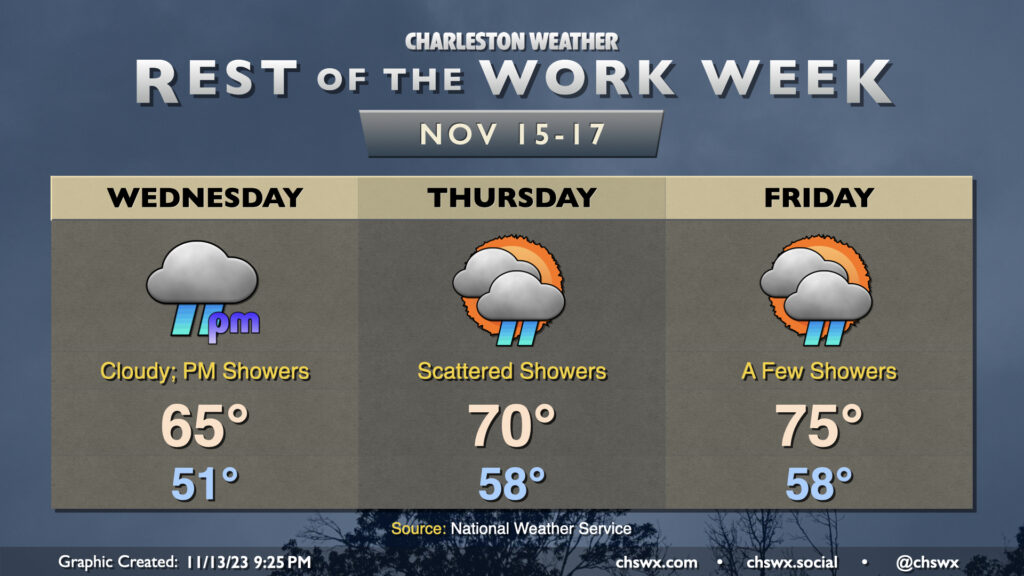 Cloud cover fills in Wednesday as the wedge of high pressure hangs tough for one more day. Temperatures start in the low 50s and warm to about the mid-60s or so under overcast skies. A few showers will become possible particularly around and after sunset, but the better chance for scattered showers arrives Thursday. The wedge begins to weaken some, and that allows more warm and moist air to move into the area as well. As such, expect highs to run around 70° with showers in the area off and on throughout the day. (No total washout, though.) Shower chances persist into Friday as temperatures continue to warm ahead of a cold front that'll arrive over the weekend, which will knock temperatures down a couple degrees but will otherwise make for a solid few days of weather as high pressure builds back in.
Tropics: Area in the Caribbean could develop, but no concerns at home
The area the National Hurricane Center is watching for tropical development in the Caribbean is up to a 70% chance of development later this week. It could send a weak tropical cyclone toward Cuba and Hispaniola with some heavy rain, but the cold front that gets through our area this weekend looks to pick up this system and whisk it off to the northeast and out to sea. No concerns for us here in the Lowcountry as we get into the last few weeks of the season.
---
Follow my Charleston Weather updates on Mastodon, Instagram, Facebook, Bluesky, or directly in a feed reader. You can also get daily audio updates via the Charleston Weather Daily companion podcast, available wherever fine podcasts are listed. Do you like what you see here? Please consider supporting my independent, hype-averse weather journalism and become a supporter on Patreon for a broader look at all things #chswx!