Wednesday: Remnants of Fred depart, but very humid air remains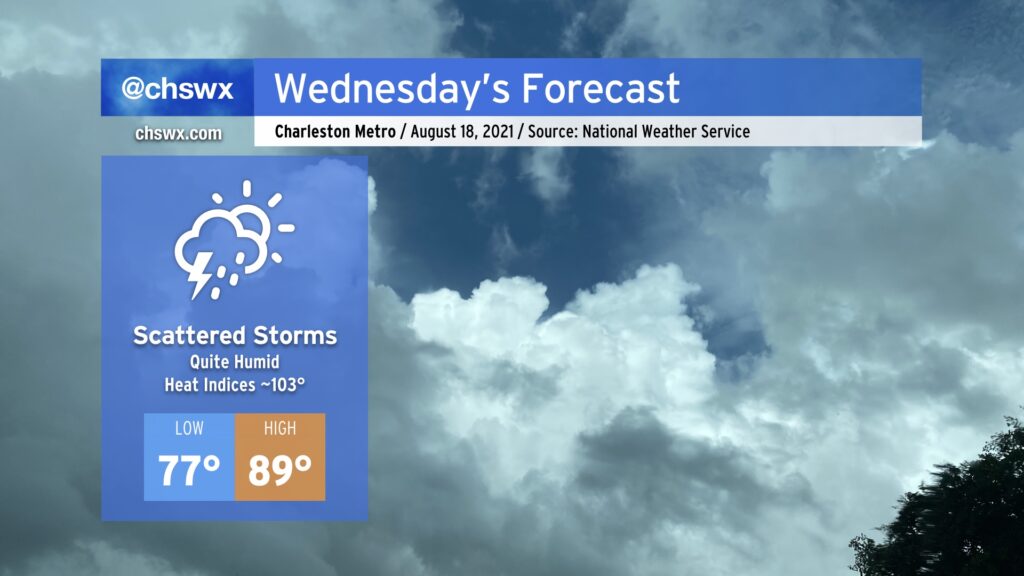 Fred continues to move northward across the western Carolinas this evening, bringing quite a ruckus including significant flash flooding in the NC mountains and several tornadoes. For our part of the Lowcountry, heavy rain has been the story. Heavy rainfall closed roads this morning in parts of downtown Charleston, while a stationary downpour within a rain band produced a radar-estimated 5-5.5" of rain across Ravenel and Hollywood.
As we get into Wednesday, Fred's remnants will become long-gone, but its legacy of deep tropical moisture will remain. An airmass characterized by surface dewpoints in the upper 70s will linger, keeping things rather humid across the region. Heat indices look to top out in the low 100s despite the fact we may not even crack 90° tomorrow.
We may start the day with heavy downpours near the coast. High-resolution models have had a pretty consistent signal that lingering banding features from departing Fred may help kick off a few showers and thunderstorms during the morning hours, which might have impacts on the commute. Afterward, high pressure aloft will increasingly reassert itself, which indicates generally scattered showers and thunderstorms developing on the seabreeze in the afternoon. Storm motions will be slow and largely driven by the inland progression of the seabreeze, so pockets of very heavy rain cannot be discounted. Otherwise, though, there will indeed be a mix of sun and clouds, so it won't be total gloom like we've seen the past day or two.
Tropical update: Grace headed to Mexico, Henri headed in a loop around Bermuda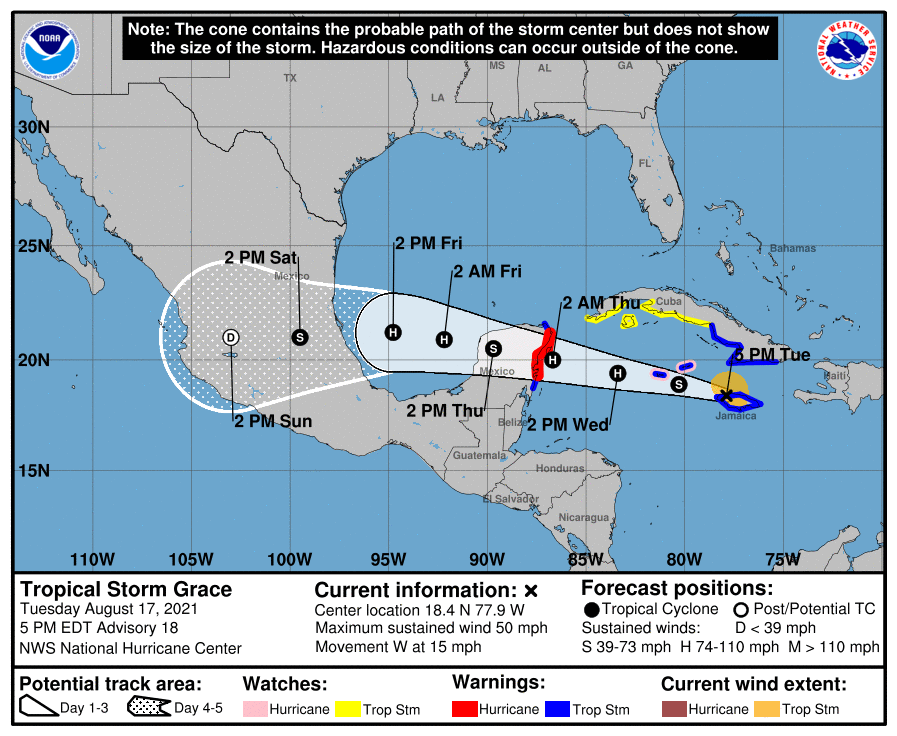 Tropical Storm Grace is skirting Jamaica this evening, bringing heavy rain to that part of the world. It will continue westward toward the Cayman Islands, likely strengthening into the season's second hurricane (after Elsa) as it approaches the Yucatán Peninsula. It will re-emerge into the Bay of Campeche late Thursday on course to a final landfall somewhere perhaps near Tampico.
Given its very southerly track, it's pretty safe to say that Grace is not going to be a threat to our weather going forward. To keep up with Grace, make sure you are following updates from the National Hurricane Center.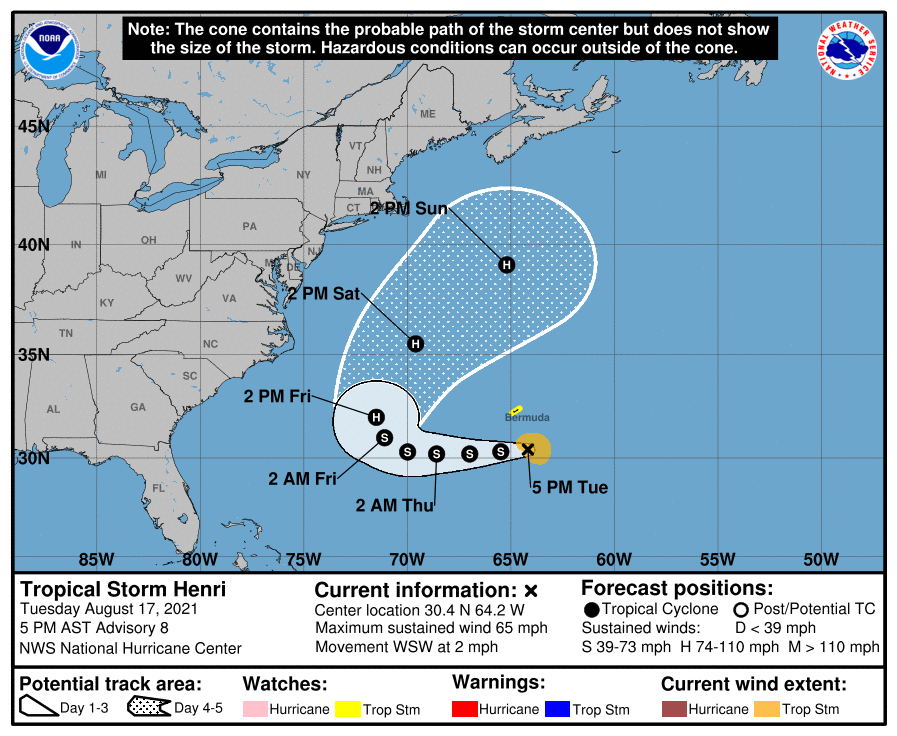 Tropical Storm Henri is meandering south of Bermuda at 2 MPH with respectable maximum sustained winds of 65 MPH. It's going to continue to slowly move westward along 30°N for the next few days before a trough picks it up and turns it back out to sea sometime Friday. NHC is forecasting Henri to also reach hurricane strength before it's all said and done. Aside from tropical storm conditions on Bermuda, it should send some swell our direction and might increase the rip current risk as we head into the weekend.
Elsewhere, NHC does not anticipate tropical storm formation over the next five days — a nice respite as we continue to close in on the September 10th climatological peak of what should still be a busy season yet to come.
---
Follow my Charleston Weather updates on Mastodon, Instagram, Facebook, Bluesky, or directly in a feed reader. You can also get daily audio updates via the Charleston Weather Daily companion podcast, available wherever fine podcasts are listed. Do you like what you see here? Please consider supporting my independent, hype-averse weather journalism and become a supporter on Patreon for a broader look at all things #chswx!