Stifling humidity continues for Thursday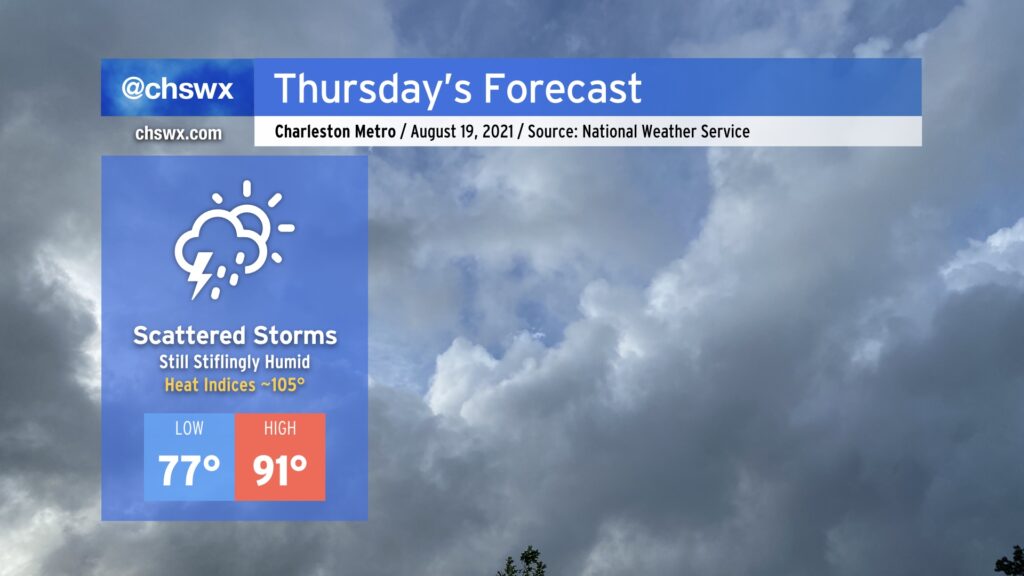 Fred may be long-gone, but its tropical moisture continues to linger across the Lowcountry for another day, making for another round of stifling heat for Thursday. Temperatures will head into the low 90s; combine this with heinous dewpoints in the upper 70s, and that will yield heat indices around 105°. This is getting to the point where heat stroke becomes a real possibility, so be sure to take plenty of breaks in the shade and get plenty of hydration if you must be outside in the heat of the day.
Some will see relief through showers and thunderstorms. In fact, there is a small chance of storms once again in the morning if the High-Resolution Rapid Refresh model has anything to say about it, so we'll want to watch that trend. Otherwise, we should see another round of scattered afternoon thunderstorms as the heating of the day kicks in and the seabreeze makes its trek. Once again, storm motions won't be terribly fast, and with precipitable water values at or over 2", flooding certainly cannot be ruled out in spots.
Tropical update: Henri's forecast becomes interesting for New England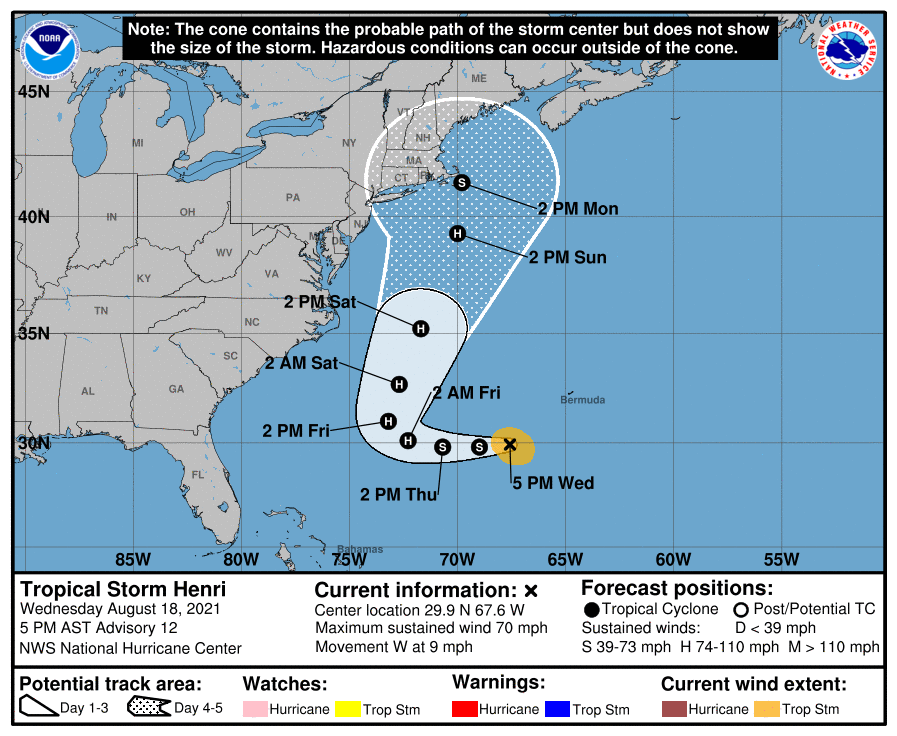 The post-Fred tropics remain active, with Grace, the season's second hurricane, taking aim on Mexico twice in the next few days. However, Henri is the more interesting storm to U.S. interests. It is expected to become a hurricane by Friday as it continues to head westward. Around that same time, it's expected to take a hard right turn to the north, keeping it clear of the Carolinas — this is going to be merely a wave-maker (and rip current generator) for us.
If you have interests in New England, though, you'll want to keep an eye on Henri. Today's guidance suite is pinging on a ridge of high pressure developing to the northeast of Henri, which would steer the storm closer to the mainland as we get into next week. So, if you are thinking about a trip north or have friends and family up there, please make sure they're watching Henri's progress carefully.
Otherwise, a big burst of Saharan dust will help keep the tropics quiet, and NHC does not expect tropical storm formation over the next five days.
---
Follow my Charleston Weather updates on Mastodon, Instagram, Facebook, Bluesky, or directly in a feed reader. You can also get daily audio updates via the Charleston Weather Daily companion podcast, available wherever fine podcasts are listed. Do you like what you see here? Please consider supporting my independent, hype-averse weather journalism and become a supporter on Patreon for a broader look at all things #chswx!