Shower chances peak Thursday, taper Friday, ahead of a nice weekend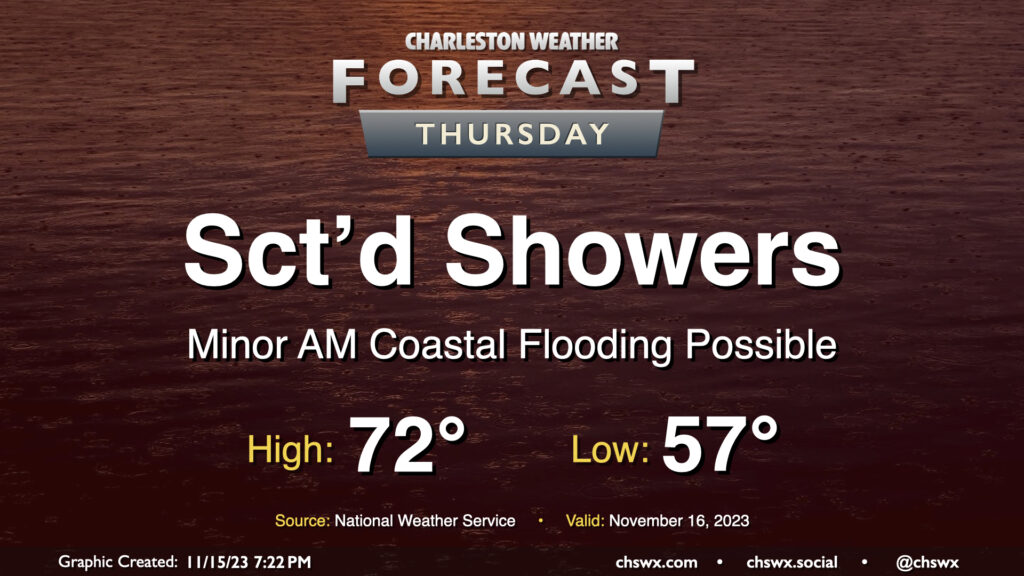 This week's shower chances will peak Thursday as a disturbance moves across the Gulf Coast, spawning low pressure off the Florida coast. Expect shower activity to generally be scattered in nature, though, with some dry periods and maybe a few breaks in the clouds possible at times. Warmer air will make inroads as the wedge of high pressure which kept temperatures fairly well suppressed over the past few days begins to give way. Expect highs to top out in the low 70s in the afternoon as a result.
There will again be the risk for some minor coastal flooding with Thursday morning's high tide, which is expected to peak around 9:33am. Much like Wednesday morning, water levels should reach 7-7.2′ again, which should be enough to put some salt water on the roads but not enough to begin to introduce widespread issues. Still, the vulnerable locations on the west side of the peninsula near The Citadel and Gadsden Green will likely take on salt water once again during the morning. Be ready to reroute around flooded roads.
Friday & the weekend: Rain tapers off just in time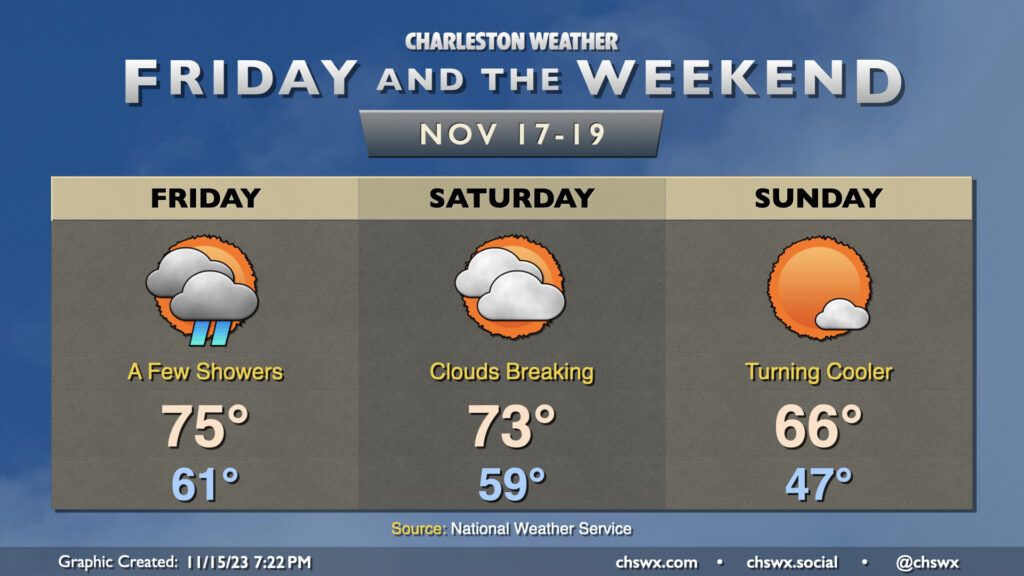 Showers will hang around on Friday as low pressure lifts away from the area, but rain chances will be decreasing throughout the day. It'll be a warm one — we start the day in the low 60s before warming to the mid-70s in the afternoon, a few degrees above normal for this point in the year. We keep the warm weather heading into Saturday despite some stubborn cloud cover, but at least there won't be any rain. A cold front then makes a dry passage later Saturday, yielding a much cooler and more seasonally-appropriate day of weather Sunday. We start Sunday in the mid-to-upper 40s and warm to the mid-60s in the afternoon under nearly full sunshine as northerly winds behind the front keep cool air moving into the area.
Tropics: Two spots on the outlook, zero problems for us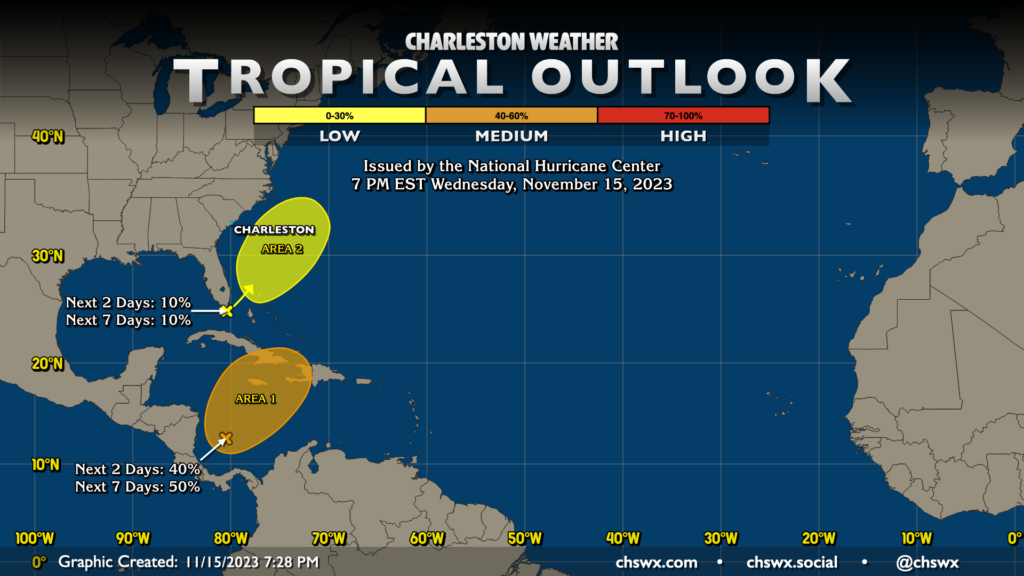 The National Hurricane Center continues its late-season watch over two spots in the Atlantic with varying potential for tropical cyclone development. The first area, which remains in the Caribbean, still has a medium chance of developing into a tropical cyclone in the next few days, though it's worth noting the probabilities have been trending downward on the outlook each day. Regardless of whether it becomes a depression or not, this could still be a decent rainmaker for Jamaica, Cuba, and Hispaniola over the next few days, but its northeasterly motion will take it well away from the US.
The second area, at first glance, appears uncomfortably close to home. However, it's a real longshot to become tropical — just a 10% probability over the next few days — and will more than likely not do so. (You just can't be too careful with a low pressure system interacting with the Gulf Stream.) Plus, it will be moving away from the area, and so aside from the showers it helps to sling ashore over the next couple days, it poses no concern to us here at home.
---
Follow my Charleston Weather updates on Mastodon, Instagram, Facebook, Bluesky, or directly in a feed reader. You can also get daily audio updates via the Charleston Weather Daily companion podcast, available wherever fine podcasts are listed. Do you like what you see here? Please consider supporting my independent, hype-averse weather journalism and become a supporter on Patreon for a broader look at all things #chswx!