Rest of the work week: A scattering of showers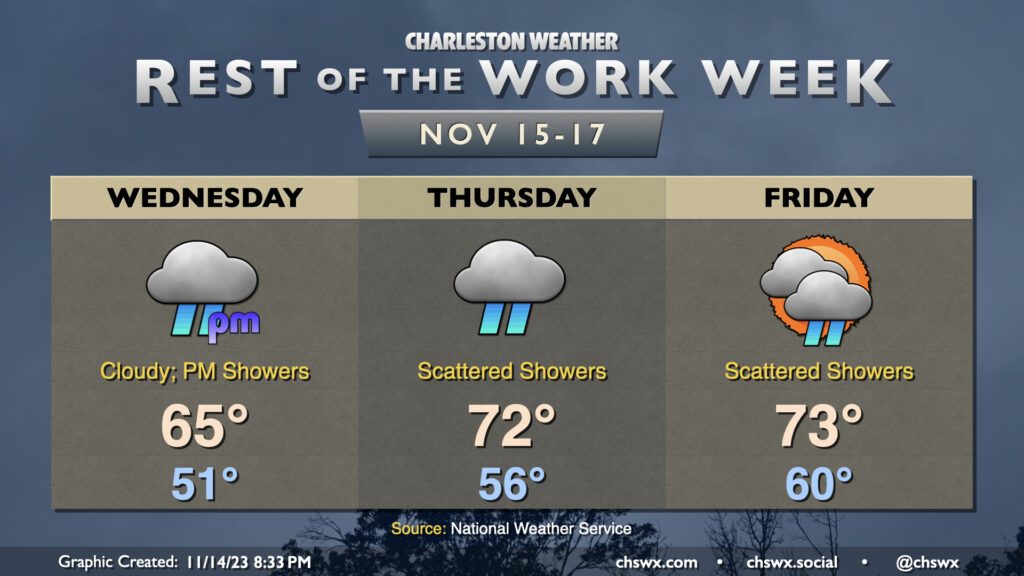 Showers re-enter the weather picture for the second half of the work week, though we'll warm up a little in the process. Expect overcast on Wednesday before scattered showers commence in the afternoon. It doesn't look like it'll be a terribly heavy rain, but it could be enough to make the roads a little slick, so be careful when commuting. Temperatures start in the low 50s and rise to about the mid-60s in the afternoon as the cool wedge of high pressure hangs on for one more day.
The wedge starts to weaken Thursday, and despite overcast with periods of showers continuing, temperatures will run a little warmer. Expect mid-50s to start with low 70s in the afternoon. A few peeks of sun will be possible Friday, though scattered showers are expected to continue. Temperatures will run even warmer Friday, with lows around 60° and highs in the low-to-mid-70s.
Minor coastal flooding will continue to be possible with the morning high tides heading into the weekend. Water levels will generally peak around 7-7.1′ or so each day, which is enough to put some salt water on vulnerable roads in downtown Charleston. The highest tide capable of producing flooding on Wednesday is predicted around 8:47am, Thursday a little after 9:30am, and Friday around 10:30am. Stay tuned for Coastal Flood Advisories from the National Weather Service.
Weekend preview: Showers depart early Saturday, looking good thereafter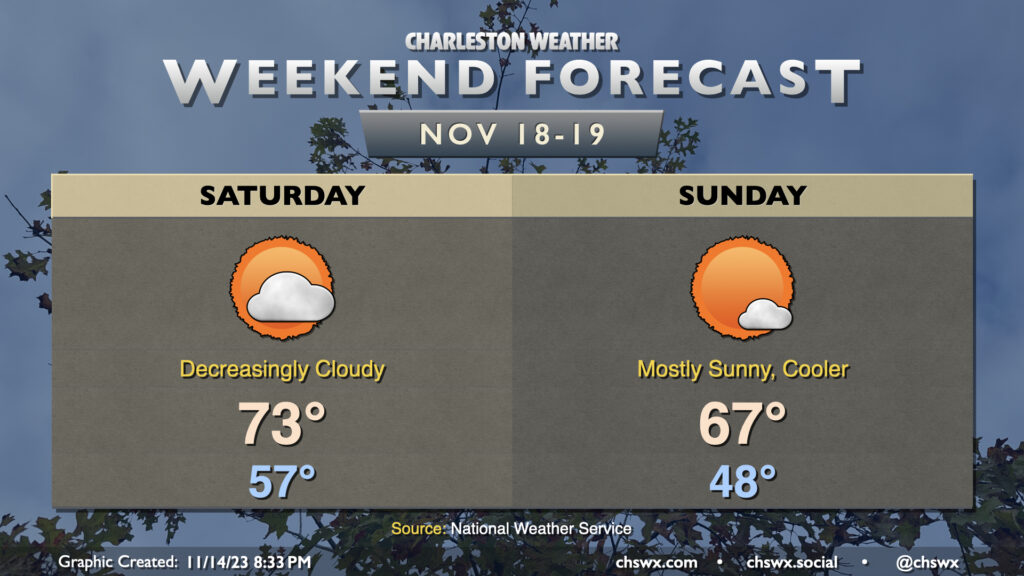 The low pressure generating the unsettled weather for the second half of the work week departs Saturday as a cold front gets by, and from there, conditions will improve. We start Saturday in the mid-50s with a stray shower possible, but that risk diminishes quickly as we get into the day. Drier air will help scour cloud cover out, and we'll peak in the low 70s in the afternoon under increasingly sunny skies.
Sunday will run a little cooler as cooler and drier air behind the front works into the area. We start Sunday in the upper 40s before warming to the mid-to-upper 60s in the afternoon under mostly sunny skies — a touch below normal for this point in the year, but certainly nothing we'll complain about as it'll feel rather seasonable for the last weekend before Thanksgiving.
Tropics: Two areas to watch, but they remain nothing to be concerned about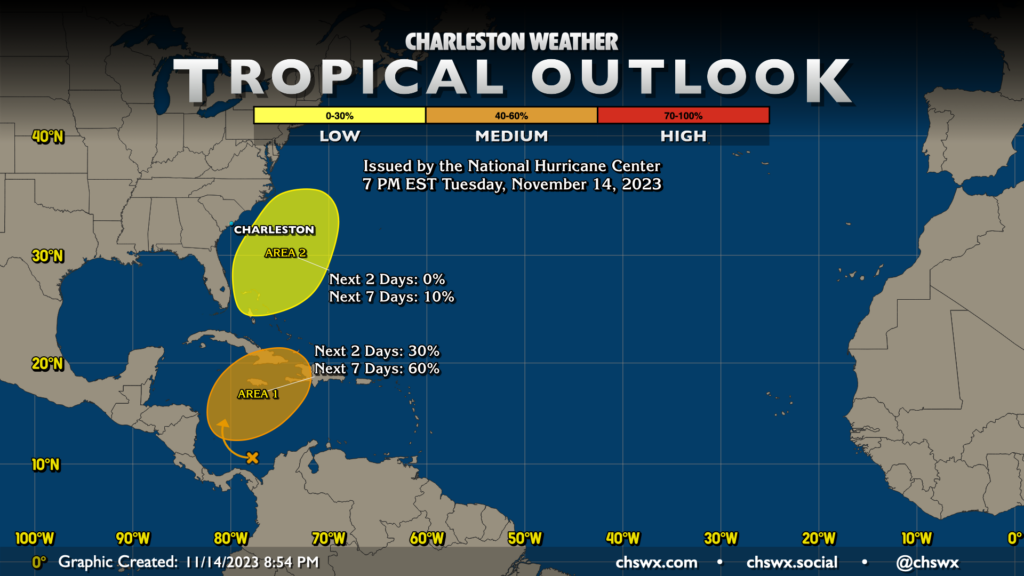 The National Hurricane Center is now watching two areas for possible development. The first area, which we've been talking about for a few days now, is a system in the Caribbean that has a medium chance to develop into a tropical depression as it moves northeast toward Jamaica, Cuba, and Hispaniola. It'll get whisked out to sea, though, and poses no concern to us here at home.
The second area off the Southeast coast is a real longshot for development, especially this late in the season, but as low pressure moves north and northeast off the coast and interacts with the Gulf Stream, there is a tiny — but non-zero — chance of a brief depression trying to form. It's a stretch, though, and it poses no concern for us here either. The Hurricane Center gives it 10% odds over the next seven days — solidly in "so you're saying there's a chance?" territory — but not much beyond that. Again, no concerns for the tropics as far as we're concerned in Charleston. 15 days to go!
---
Follow my Charleston Weather updates on Mastodon, Instagram, Facebook, Bluesky, or directly in a feed reader. You can also get daily audio updates via the Charleston Weather Daily companion podcast, available wherever fine podcasts are listed. Do you like what you see here? Please consider supporting my independent, hype-averse weather journalism and become a supporter on Patreon for a broader look at all things #chswx!