After record rainfall, more storms to come Thursday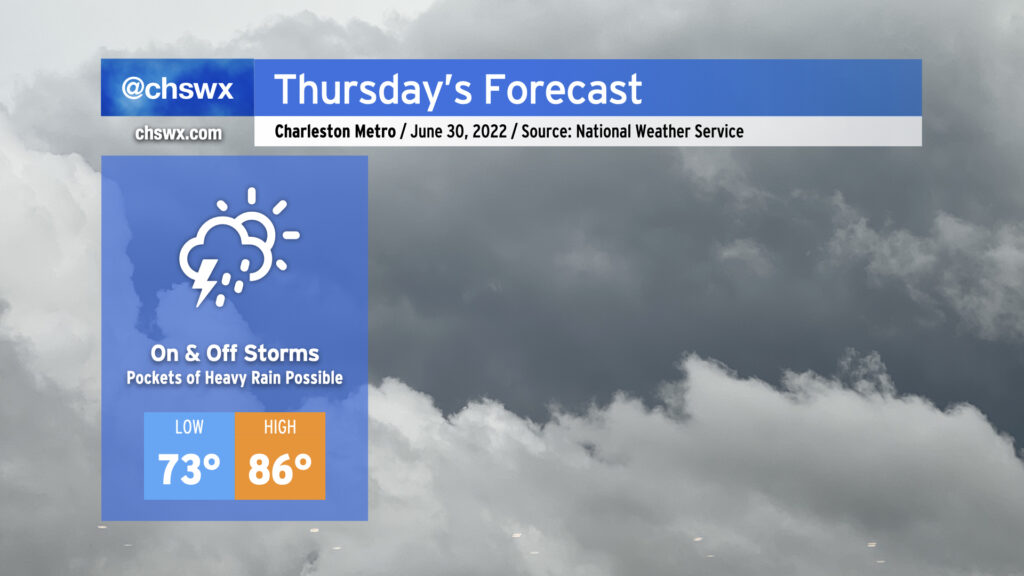 After record rainfall today — 1.87″ of rain at the airport breaks the record of 1.54″ set in 2000, while stations in West Ashley picked up 2.5-3″ — more storms are on the horizon for the next few days as we remain within a very humid airmass with plenty of upper-air and surface features to help spur on shower and thunderstorm development.
Thursday looks to go similarly to the past couple days, though there may not be quite as much coverage as we've seen thus far this week. We could see showers and storms forming early in the day near the coast, with storms becoming scattered to numerous while translating inland with the seabreeze throughout the afternoon. With precipitable water values near 2″, we once again could see pockets of very heavy rainfall. The past couple days have seen a couple 4″ bullseyes, and I can imagine that will be the case somewhere again tomorrow. The severe weather risk remains very low given the very saturated atmosphere, but lightning and isolated bouts of excessive rainfall will make any thunderstorm dangerous. High temperatures will remain suppressed in the mid-80s, though the humidity will still be rather swampy.
Friday & the weekend: Still stormy, though calming a little Sunday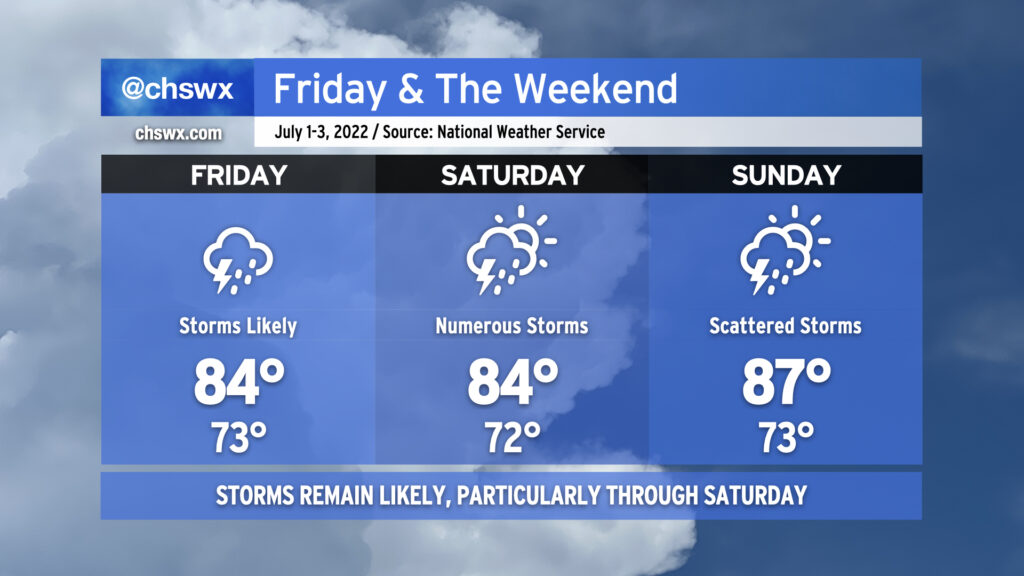 Friday could see even more coverage of showers and thunderstorms, especially if a small surface low pressure area develops in southeast Georgia. The enhanced convergence on the northeast side of the low should assist in greater coverage of showers and thunderstorms during a good bit of the day. Again, chances are it won't rain all day, but several hours of rain certainly seems within the cards. Also, once again, heavy rainfall will be a concern in spots. After the last few days, we could begin to start to see soils perhaps get a little overwhelmed with rain in spots, and this may contribute to an increased localized flooding risk. Wait and see, but it's certainly something to watch. Saturday looks to be another active day as well, though we should see a few more breaks in the clouds. Sunday will mark the beginning of a downward trend as far as duration and coverage of thunderstorms, but there's still a decent shot at seeing rain across parts of the area at some point. Temperatures will run below normal for the duration, especially Friday and Saturday when the greater rainfall amounts are expected.
Dodging nature's fireworks for Independence Day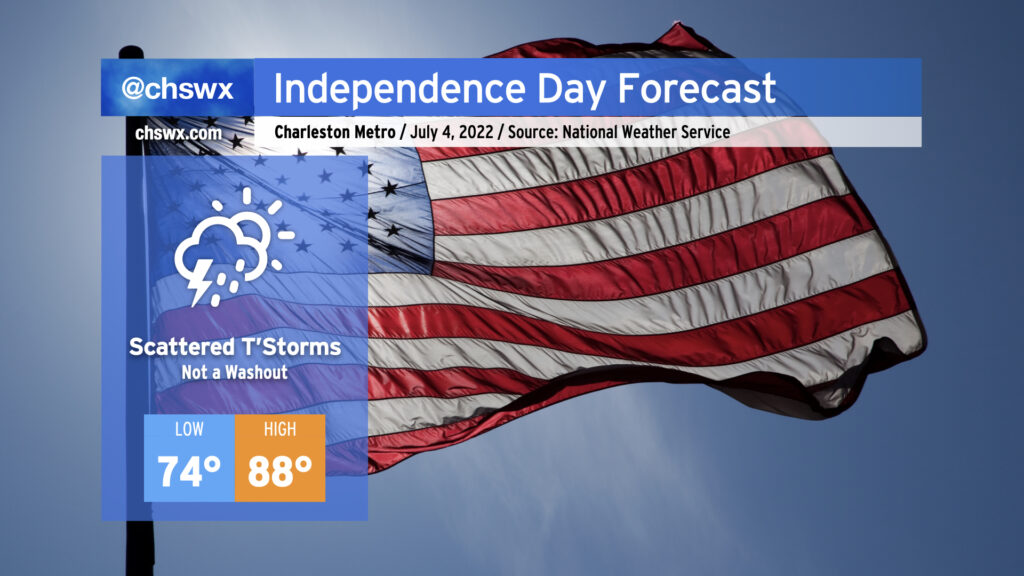 The Fourth of July will continue to feature scattered thunderstorms, but a total washout is not in the cards as we should see some periods of sunshine as well. Early indications are that rain will clear the area by fireworks time, too. Temperatures will run still a click or two below normal in the upper 80s in the afternoon, but it'll certainly feel more summer-like than the prior few days. We'll continue to watch and fine-tune the forecast for the Fourth as we get into the range of the higher-resolution models. Stay tuned.