One more hot one for Thursday, then we turn cooler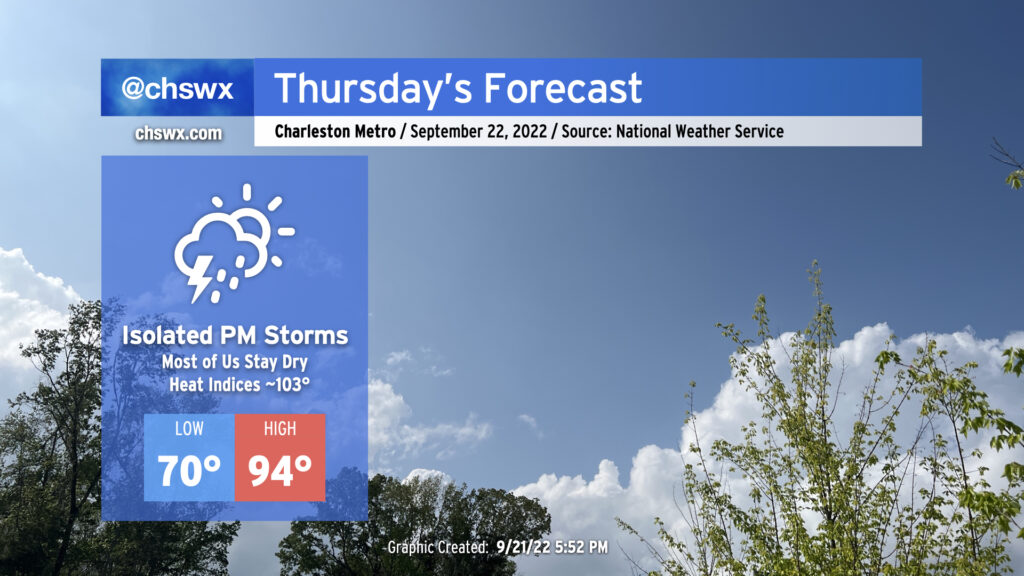 We've got one more hot day in store for Thursday before the weather takes a turn for the fantastic for Friday and the weekend. Compressional heating ahead of a cold front will drive highs into the mid-90s for Thursday afternoon, perhaps approaching the record high of 96° set in 1990 at the airport. Downtown could very well tie or break the record high of 92° set in 1925, too. Mix in a little bit of humidity and it'll feel closer to the upper 90s (though heat indices should stay south of 100° as the deep-layer dry air helps to mix out dewpoints to the mid-60s). There will be a slight chance of showers and thunderstorms in the late afternoon and early evening hours as the front passes by, but don't expect anything too heinous as there's still plenty of dry air to overcome for much in the way of active weather.
Friday & the weekend: A taste of fall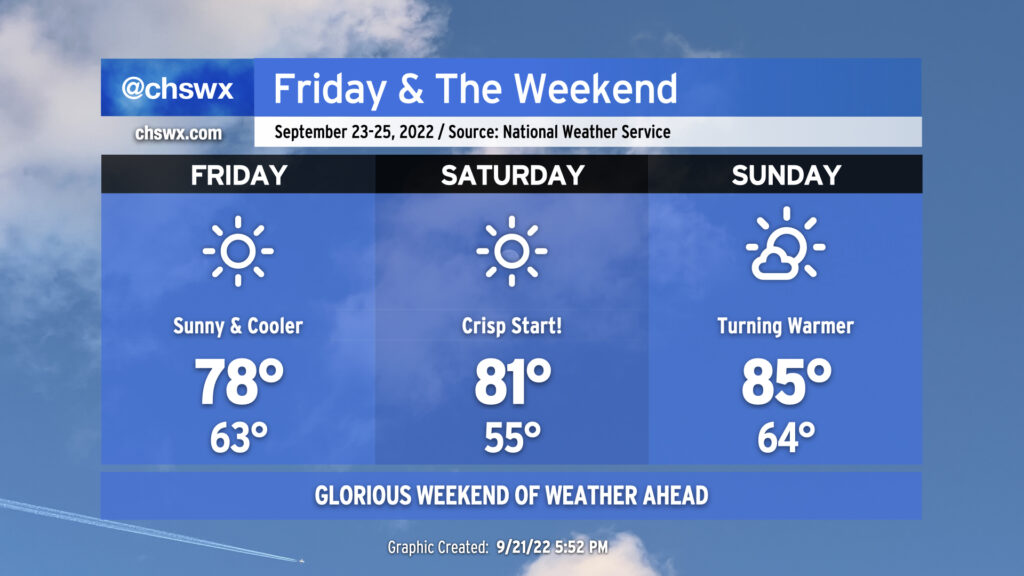 After the cold front moves through late Thursday, cooler and drier air will begin to move into the area from the north. By Friday morning, we should see temperatures in the low 60s across much of the metro (running a bit warmer near the coast, where water temperatures remain well into the 80s) and dewpoints down in the mid-40s. The northerly breeze will turn more northeasterly as Friday goes on, keeping high temperatures down to the upper 70s. It should feel pretty dang fantastic. The only thing keeping Friday from a "Severely Nice Weather Alert Day" designation is the risk for minor coastal flooding around the evening high tide. Water levels are expected to peak a little after 7 PM and could reach 7.2-7.4′ in the harbor as northeasterly winds and swell from Hurricane Fiona help push tidal departures over a foot or more. Be ready for some salt water on some roads in downtown Charleston Friday night, but otherwise, it'll be a fantastic evening to get out and about.
Saturday morning will be crisp with lows in the metro expected in the low-to-mid-50s. You have to go back to May 11th for the last time we started a day that cool! Some sheltered spots could even bottom out in the upper 40s. Temperatures will warm into the low 80s with unobstructed sunshine as a very dry and stable atmospheric profile precludes any fair weather cumulus development. Winds will be a little lighter on Saturday, with a light breeze out of the northeast to continue with high pressure in place to our north.
Surface high pressure will slip offshore on Sunday. The resulting southerly return flow will help bring temperatures and dewpoints back up a little bit, but it'll still be pretty nice out with lows in the mid-60s and highs topping out in the mid-80s with just a few clouds from time to time. Overall, it's a great weekend to get outside and do things, and I hope you get to take advantage!
Tropical update: Fiona to bring rough surf and rip currents, and the latest on Invest 98L
Major Hurricane Fiona, a Category 4 storm on the Saffir-Simpson wind scale with maximum sustained winds of 130 MPH, is moving northward this evening and is expected to begin veering a little more to the east with time as a trough passing over the Great Lakes this evening begins to influence the system. Fiona's center will pass well to the east of Charleston, but we will see wave and rip current impacts over the next few days as it does so. There's a high risk of rip currents at area beaches through at least Friday along with a High Surf Advisory in effect. These conditions may be dangerous even for experienced swimmers, so I urge folks to use caution if wading into the Atlantic over the next few days.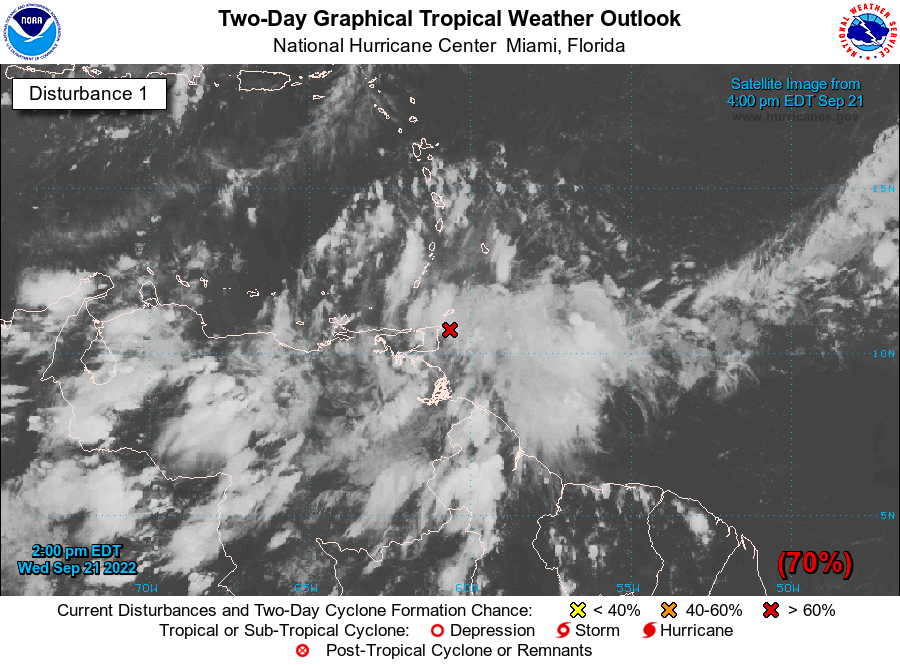 The storm that's generating a lot more attention, though, hasn't even really come together yet: Invest 98L, a tropical wave of interest that's approaching Trinidad and Tobago and northern Venezuela this evening, producing some showers and thunderstorms in the area. As the tropical wave gets into the Caribbean, National Hurricane Center forecasters expect it to develop into a tropical depression. There's a 70% chance of development in the next 48 hours and a near-certain 90% chance of development in the next five days.
There's no shortage of Scary Model Runs for this storm floating out there on the Internet at this point, which I urge y'all to take with a serious grain of salt for now. We don't even have a center of circulation yet, and models can and often do struggle to lock into a solution in this situation. For now, the models agree that the storm will get into the Caribbean and develop into a tropical cyclone. From there, it's really anyone's guess — the spaghetti, as it often does, diverges wildly between solutions that threaten the Yucatan Peninsula all the way to the Bahamas. (A meteorological shrug. ¯\_(ツ)_/¯)
Bottom line: There's a lot of time to watch this wave, and I do urge y'all to keep an eye on official NHC forecasts for your decision-making. (I'll relay those here, of course.) It's a good reminder that we've still got a little over two months of hurricane season to go, and that it's never too early to prepare for a storm (though it can very easily become too late!).